Printable Tea Party Invitations
Free invites to afternoon tea, Victorian, garden parties and more.
Looking for printable tea party invitations?
Tea Parties can come in all shapes and sizes! From large garden parties to quiet kitchen gatherings. And each needs an invite to suit

A tea party can be positively magical and turn into a cherished memory
. Many friendships are cemented over a 'nice cup of tea' and your imagination can run riot in planning a beautiful event like this.
This selection of printable invites covers the different types of tea party - from Victorian to Christmas, and even some suitable for your little princess.
They all fold to make a card - with lots of space to fill in your party details.
Best Printable Tea Party Invitations

Pretty and whimsical, these cute invites are prefect for children. Both feature polka dots, teapots and cupcakes! What more could you need!

3 great Alice in Wonderland invites. Bring out the Mad Hatter in your guests! 

These three illustrations all come from the wonderful classic by Lewis Carroll. Perfect for any age!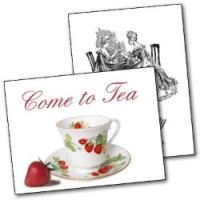 Free Tea Party Invitations
Sweet invites that would be great as
kitchen tea invitations
- or for your garden party.
Nice and simple invites that lend themselves to lots of occasions.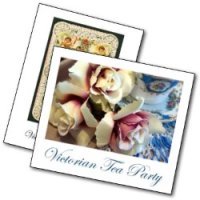 Victorian Tea Parties
.
Looking to evoke a sense of times gone by? These beautiful Victorian invites really do suit the sophistication of a
Victorian tea party
.
2 to choose from - then simply print and fold.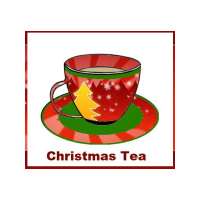 Christmas Tea Invitation
.
Hosting tea at Christmas? These printable
Christmas Tea invitation
feature holiday designs. Perfect for your festive get-together.
Want to see more seasonal invites? Check out these
printable Christmas party Invitations
.
We can't all afford to take tea at the Ritz but we can still recreate this special event at home!
Don't forget to include directions and any special instructions in your printable tea party invitations
- especially if you want people to dress up! Printing your card template onto thick paper will add a touch of luxury to your invite.
Make your party special
by using a beautiful teapot and china cups. A little bit of effort in decorating your table will go a long way! Try adding some strings of pearls or flowers.
And don't forget the
tea
! There are lots of different varieties available. Try to match the flavor to your event - use a sophisticated English blend - or seasonal holiday blends depending on the mood you want to evoke.
FromtheRookery

›
Printable Tea Party Invitations
Like this? I would love it if you would share!