Free Printable Thank You Cards
Need to thank someone for their gift? These free printable thank you cards make an easy way to get organized with saying thanks!
I am always looking for a quick and easy way to send thank you cards!
I love to be grateful and say thanks - but getting organized to do it can be such a chore. If you keep some printable thank you cards on hand it makes it all so much easier. 
So I designed you some!
I tried to keep them fairly neutral so they would be just as useful for Christmas or birthdays. I don't know about you but I never seem to have any card on hand and need to print onto paper. So I made them quarter foldable. I find that makes them a little more durable (and nicer!). Once folded they make a sturdy little card.
Fold carefully to get a neat edge - and press the fold with the back of a spoon for a sharp fold.
Envelope sizes you will need are quarter paper size (A6 or 4.25" x 5.5″ depending which card size you print).
Folding Instructions
Fold the paper short sides together with the design on the outside. Then fold over again, short sides together.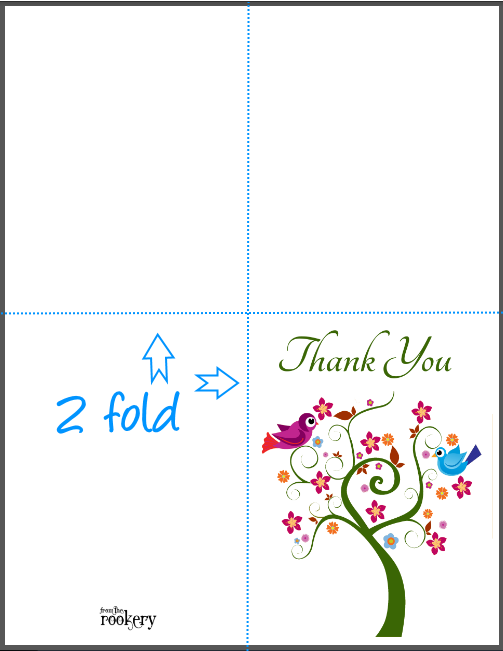 Printable Thank You Cards
Click on the download link below, save to your PC or phone, and print onto the correct sized paper (A4 or Standard Letter size - 8.5" x 11"). 
Why not print a few extra while you are here? Then you will have them ready for another occasion you need them!

Example Wording
Not sure what to say? Here are some quick ideas!
Thank you so much for your wonderful gift. I loved it!
I really appreciate your kindness and thoughtfulness.
I am so grateful for my gift of X from you. I really appreciate the thought you put into choosing it for me.
My gift was fabulous. Thank you so much. 
You made my day!
Really not keen on your present? Here are some ideas for getting rid of gifts you don't want!
I hope you find these printable thank you cards useful. Do take a look at the other printables on this site - have lots to share :)
You may be interested in...
Want to remember this? Pin these Printable Thank You Cards to your favorite Pinterest board!
Printable Thank You Cards
Like this? I would love it if you would share!