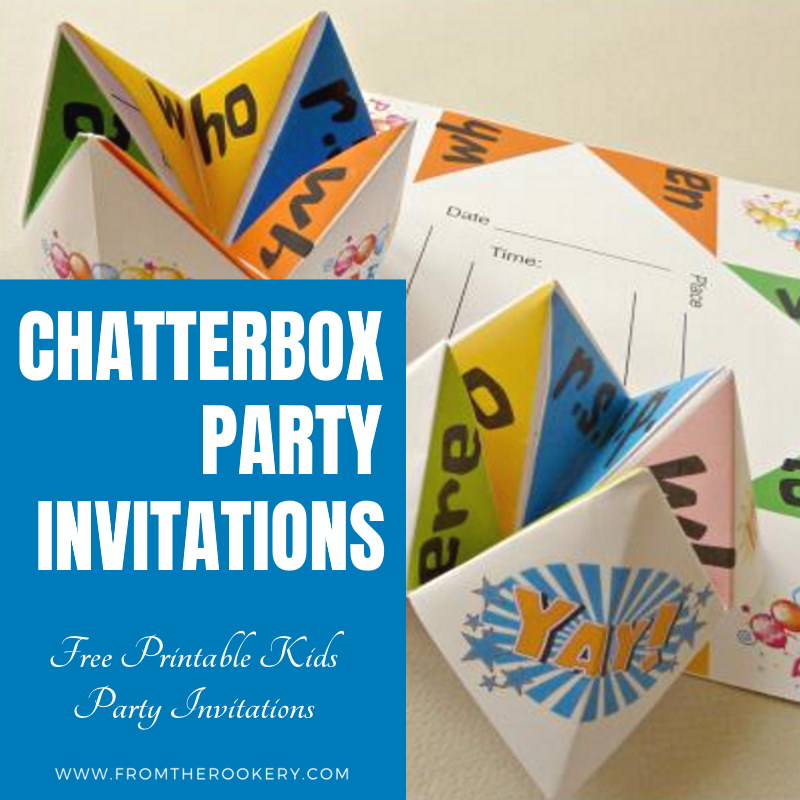 Origami Invitations
Need a fun invitation idea?
Whether you call them chatterbox, cootie catchers or fortune teller, these origami invitations make an unusual and fun way to invite guests to a party.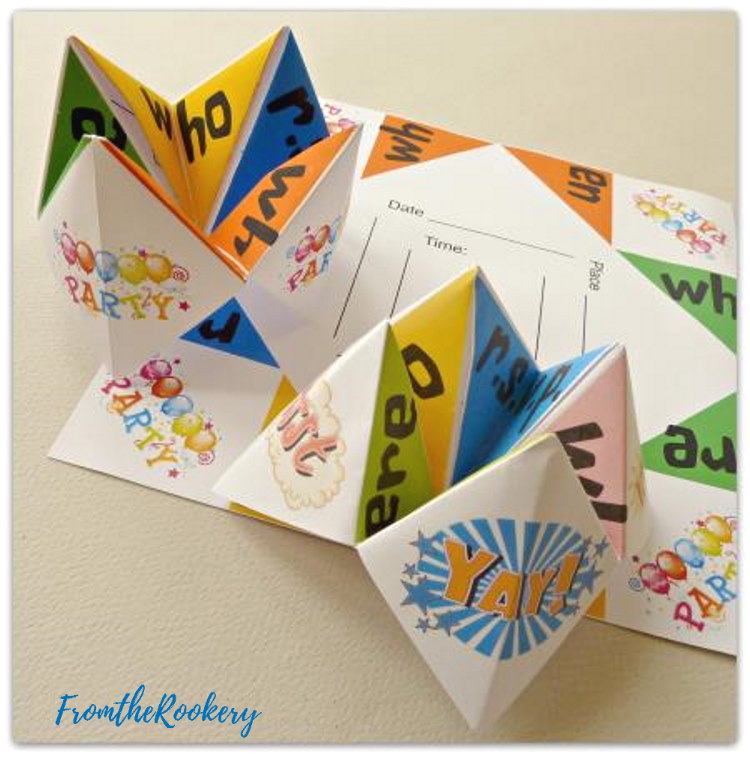 Free Printable Chatterbox Invites
There are two designs - suitable for birthdays or other types of parties. 
They fold up flat for posting! Once you have made your cootie catcher invite you can flatten it (see instructions below) and it will fit into an envelope for mailing.
Inside there is space for you to write out the details of who, where, when and how to RSVP.  I have clearly marked where you can write out your party information before folding them.
They make a memorable way to invite your guests. A blast from the past and very fun for kids especially. 
There are two sizes for each invite. A4 imperial size, and a standard letter (8.5x11 inch) version. The pdf files should be printed 'portrait' and either 'fit to page' or 'actual size'.
Printable Party Origami Invitations

This first one is a little brighter and bolder with strong primary colors. 
The outside section just says 'party' so you can use it for different events and not just birthday parties. I think they would work really well for a New Year celebration or perhaps a baby shower.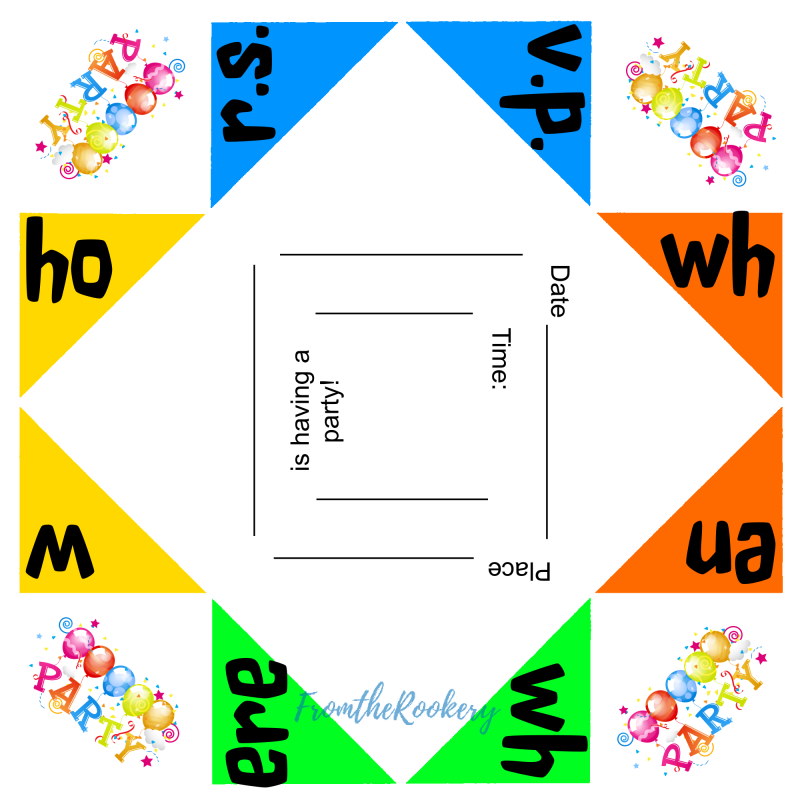 Free printable:
Chatterbox Invite 


Letter -
Chatterbox Invites.

A4 -
Origami Invitation

Scroll to the bottom of the page for folding instructions!
---
This is a slightly more subdued color version! This time I changed the outside text to phrases such as 'Hurrah' and 'Pssst!'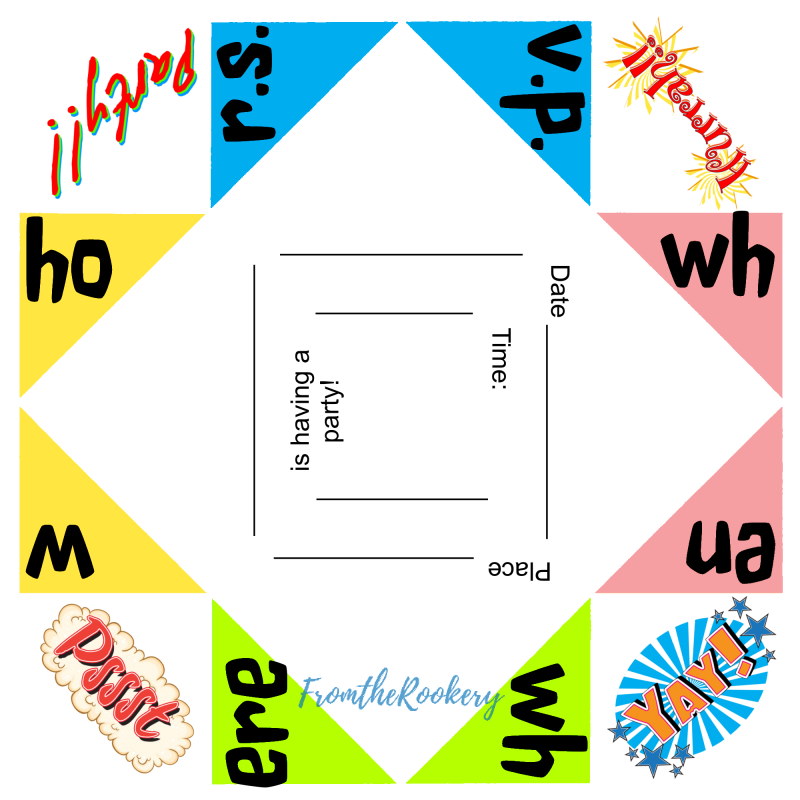 Print your own:
Cootie Catcher Invitation


Letter -
Cootie Catcher Invites.

A4 -
Fortune Teller Invitation

---
How to fold:
If it has been a while you may have forgotten how to fold your fortune teller! It might take you a couple of tries, but once you figure it out it becomes easy. 
Here are some instructions for you.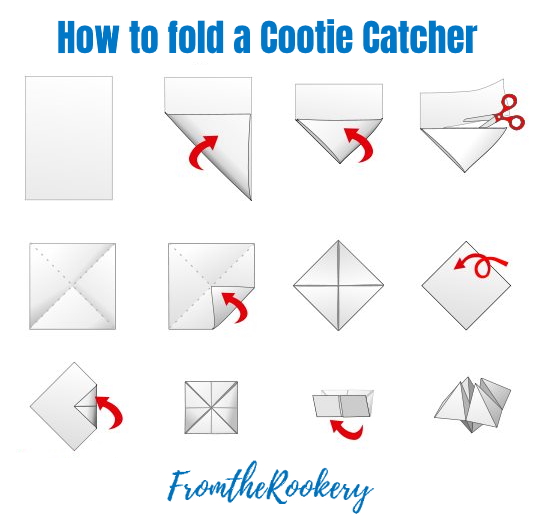 When you are folding the corners into the middle (see step 6, 9 and 10) then you should be able to see the colored/printed side of the invitation.
If you want to post your invitation, then fold it flat again as it appears in step 11.
Want to see more invitations? Check out some of my other invites

More Kids Invites
Pin these Origami Invitations for later!
Origami Invitations
Like this? I would love it if you would share!