Printable Christmas Party Invitations
Free Stylish Christmas Invitation Cards
Having a Christmas party? Why not send one of these printable Christmas Party invitations?
When the holiday season rolls around we jump at the chance for some festive partying. But how to invite your guests to your festive event? Whether you are holding a quiet cocktail party at home - or throwing a large office do, these free invites will be just the ticket. Is it a kids party? No problem! There are invites just for them too.
Scheduling a party of any kind at this time of year is a daunting prospect. But now, choosing an invite doesn't need to add to the stress.
The different types of invites in the section below, will help you find the best way to invite your guests to your party.
Best Printable Christmas Party Invitations

Free Printable Christmas Invitations
There should be something for everyone amongst these mixed design invitations. These unique invites are foldable to make a card. There is space inside the card to write your party details.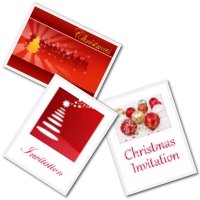 Free Printable Christmas Party Invitations
.
Looking for a stylish red and white design? These classic invites really do invoke a festive mood. Write them out with a dark red gel pen for more effect.
3 to choose from - then simply print and fold.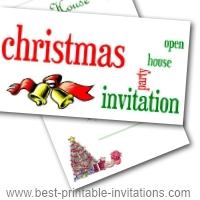 Christmas Open House Invitations
.
Are you having an open house for the festive season?  
Two designs especially for this type of party. Choose from a foldable card, or a half-page sized invite.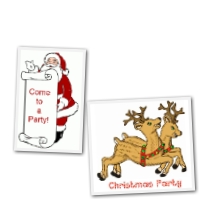 Free Christmas Party Invitations for Kids
.
Imagine getting a special
Christmas invite
from Santa Claus - or his reindeers! Kids will love these fun party invitations.
One design features Santa with a large sign - the other prancing reindeers in colorful harnesses.
Either design would be great for a kids party - just the thing to make your guests excited about the upcoming event.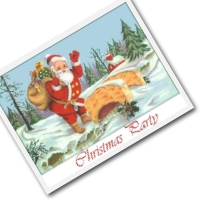 Christmas Party Invitation
.
Another fun design featuring Santa Claus. This time he is about to climb down your chimney to deliver presents!
This vintage design is very appealing - and would be suitable for many different types of Xmas events.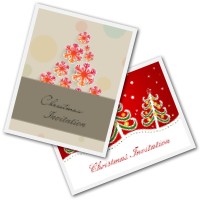 Christmas Invitation Cards
.
Two stylish Christmas Cards to invite guests.
These tree design cards are very modern looking and would be suitable for lots of different Xmas events.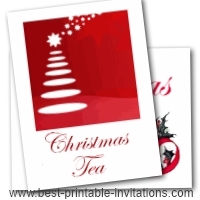 Christmas Tea Party Invitations
.
Hosting a Tea Party?
Try these
Christmas Tea Party invitations
for a stylish invitation.
Two designs featuring a stylish red tree - or a pretty candle image.
Christmas Tea Invitation
.
This
Christmas Tea invitation
features a holiday teacup designed with Christmas trees.
For more Tea Party invites, check out these
printable tea party invitations
.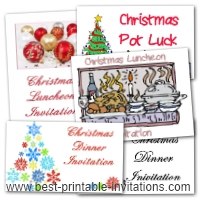 Christmas Dinner, Luncheon, and Potluck Invitations
.
Want to invite someone to eat with you? Whether you are having an office Christmas luncheon, a potluck party, or a fun family dinner - there is an invite to suit you here.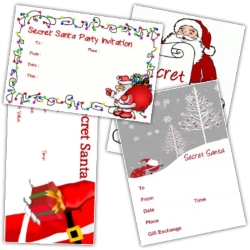 Secret Santa Invitations
.
Secret Santa party or Gift Exchange. These are for you!
---
Include some sparky Christmas confetti into your printable Christmas party invitations - a fun surprise for your guests to get them into the festive mood.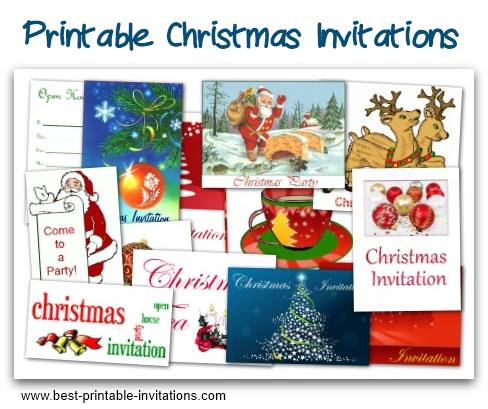 Need some Christmas Party Ideas?
Check out my Pinterest Christmas Party board for recipes, decorating ideas and some cool craft ideas. And don't forget to 'follow me' to keep those ideas coming!
And a Merry Christmas from me!
FromtheRookery

› Printable Christmas Party Invitations

Like this? I would love it if you would share!