Free Printable Birthday Invitations for your Party
Are you hosting a party? Why not invite your guests with one of these free printable birthday invitations?
Birthday celebrations come in all shapes and sizes - and so do my invites!
Get your party off to a great start. You can set the mood of your event with an invite that matches the atmosphere you want to create - it is a great way to let your guests know what to expect
Printable Birthday Invitations
With so many different types of parties, each needs a special invitation. So here at FromtheRookery.com, I have tried to keep all possible occasions in mind. I am sure you will find the perfect invitation for your party.
The different types of invites in the section below, will help you find the best way to invite your guests to your party. Scroll down to find the type of invitation you are looking for - and use the link to see a selection.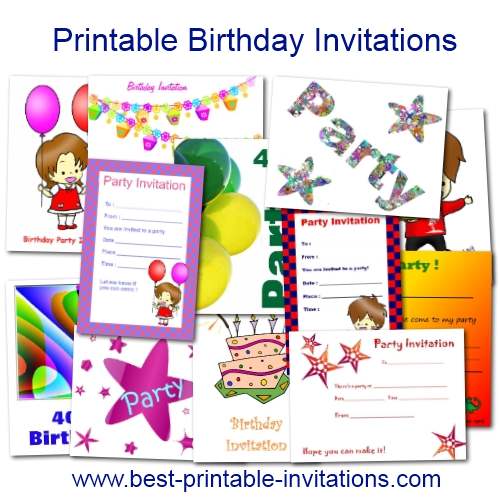 Kids Birthday Invitations
From polka dots, to balloons to dinosaurs! Even 1st birthday designs.

I have a whole range of invites just for kids! Take a look at these kids birthday invitations.
21st Birthday Invites
Turning twenty-one? Congratulations.

I have several different designs for you to invite your guests to your party. 

Whatever you are doing to celebrate, you will find something here just perfect!
40th Birthday Party Invitations
Turning forty?

What a perfect time for a celebration. A fortieth event needs a unique way to invite your guests. Choose from bright balloons, a colorful retro design, and many more unique invites. 



Printable 50th Invites
However you decide to celebrate your fiftieth, here are some colorful ways to invite your guests.

Choose from a hot air balloon design, celebration ribbons or balloons!

These  invites are just the thing for a fiftieth party. Stylish, but fun. If you are going to be 50, you may as well celebrate in style! 

60th Birthday Invitations
Hosting a sixtieth? My selection of invites will be just the thing. 

Several different invites to suit everyone's taste.
80th Invites
Yes, I even have eightieth celebrations covered! 

Several different designs to suit both formal and informal events.
Surprise Birthday
Shhh! Is it a surprise. Try these fabulous designs especially for surprise birthday parties.

Lots to choose from! Find your favorite.
Unique Party Printables
Yes, there are more! From stars to cakes - and even a unique design drawn by Ginger Wallace. A perfect selection for inviting your friends to your special day.
Free Printable Birthday Invitation

This is probably the most popular invitation on my website.

These bright and colorful printable birthday invitations are perfect for either a children's party, or an adults retro type event. A simple but striking border - and it prints 2 per page to save you time and ink.

FromtheRookery

›
Printable Birthday Invitations
Like this? I would love it if you would share!