21st Birthday Invitations
Are you looking for some 21st Birthday invitations?
These free printable party invites are specially designed for twenty-first parties. I have made them as easy to print as possible (no registration needed!) and tried to make them suitable for a wide range of different celebrations. Take a look and see which is your favorite.
21st Birthday Invitations
Twenty-One! What a great age and a definite opportunity to celebrate. 
21st parties come in all shapes and sizes! I wanted to design invites that would suit pretty much any type of event. So whether you are having a huge party, or a small gathering in your local bar, these invitations should work for you.

Free Printable Invites
Two bright and cheerful invites. Based on two of the most popular invitations on this site, but adapted just for 21's.

These print two per page to speed up printing and save you ink.

Two unique designs that work well for all kinds of parties. 

One features a polka dot design, complete with bow. The other is green with a striking red pennant.
21 is such a milestone and a great opportunity to have a birthday bash!
Choose a party that suits your personality. You don't need to follow the crowd and do what everyone else is doing. Think about having a theme or build your event around an activity you love doing.
If you need to provide more information about your party than there is room for on the invitations, then use the back of it. There is plenty of space there for you to add a map or more details.
When it comes to decoration, there are masses of ideas available on the internet to help. It doesn't need to cost a fortune if you do it yourself. Pinterest is a good place to look to find ideas - check out my decoration ideas board to get you started.
Follow Julie @ FromtheRookery.com's board Party Decoration Ideas on Pinterest.
I hope you have a really memorable birthday. Don't forget to take lots of photos or videos so you have a reminder of your big day.
I hope you have a wonderful birthday! 
More Printable Birthday Invites
I hope you really like these invitations, but if not, I have more! Take a look around my site. I am sure you will find something you love.
Here are some recommendations to get you started.
FromtheRookery

› 21st Birthday Invitations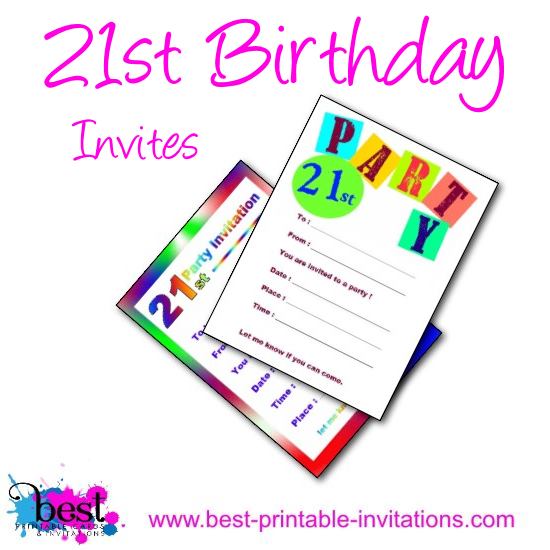 Like this? I would love it if you would share!