Christmas Leftover Tart Recipe
This recipe for Christmas leftover tart is the perfect way to use up some of the ingredients you may have left after Xmas Day dinner. 
I am always looking for good ways to use up leftovers - especially vegetables! The vegetables in question this time were brussels sprouts! All my family love them but there always seems to be leftover sprouts in the bottom drawer of the fridge! 
I got inspired by this Sprout and Bacon Tart from Tesco - and decided to make it up to see if it would be a good way to use up Christmas leftovers. And it is lovely! Light and tasty - the brussel sprouts do not overpower it at all.
I served it as a light supper with coleslaw and salad. But I think it would also make a fabulous dinner if served with stuffing, roast potatoes and perhaps even some cold turkey.
Because I specifically wanted to use this for Christmas leftovers, I have modified the recipe to be a bit more Christmas friendly.
I am a very casual cook! I tend to use measurements as rough guides only. And I took the easy route and didn't follow all the steps! It still came out delicious. If you are more particular I recommend you take a look at the original version!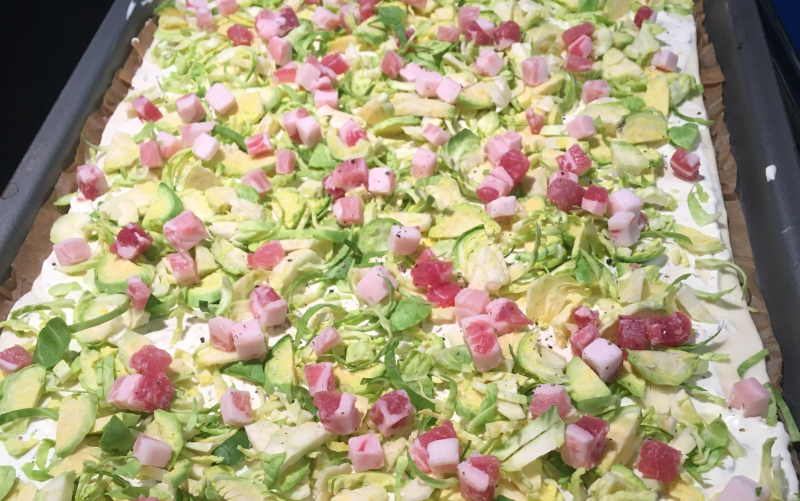 Preheat the oven to gas 6, 200°C, fan 180°C, 400°F (Moderately Hot)
Ingredients
1 x pack of puff pastry (ready rolled)
2/3 cup (75g) of crème fraîche


1 garlic clove crushed

1 heaped teaspoon dried thyme

2 cups (180g) of uncooked brussel sprouts - peeled and shredded

1 cup (100g) of leftover Christmas meat chopped into small pieces - the original recipe uses smoked bacon, but for Christmas I am using leftover pigs in blankets, chipolatas, stuffing, ham or maybe even some cooked turkey. Whatever I have left.

A small handful (20g) of chopped walnut pieces
Instructions
Lay out the pastry onto a baking tray.
Mix the garlic, thyme and creme fraiche together and spread evenly over the pastry.
Sprinkle the shredded sprouts over the top of this - and then scatter the meat onto the top.
Bake in a preheated over for about 25-30 minutes, scattering the walnut pieces on the top about 3 minutes before it is ready to serve. Remove from the oven when the tart looks golden and the sprouts soft and tender.
Day After Christmas Lunch Idea
I am going to use this tart recipe for my day-after-Christmas lunch this year. It is nice and light after the previous day roast. Just perfect for a more relaxed dining experience. 
Want to remember this? Post this 'Christmas Leftover Tart Recipe' to your favorite Pinterest board!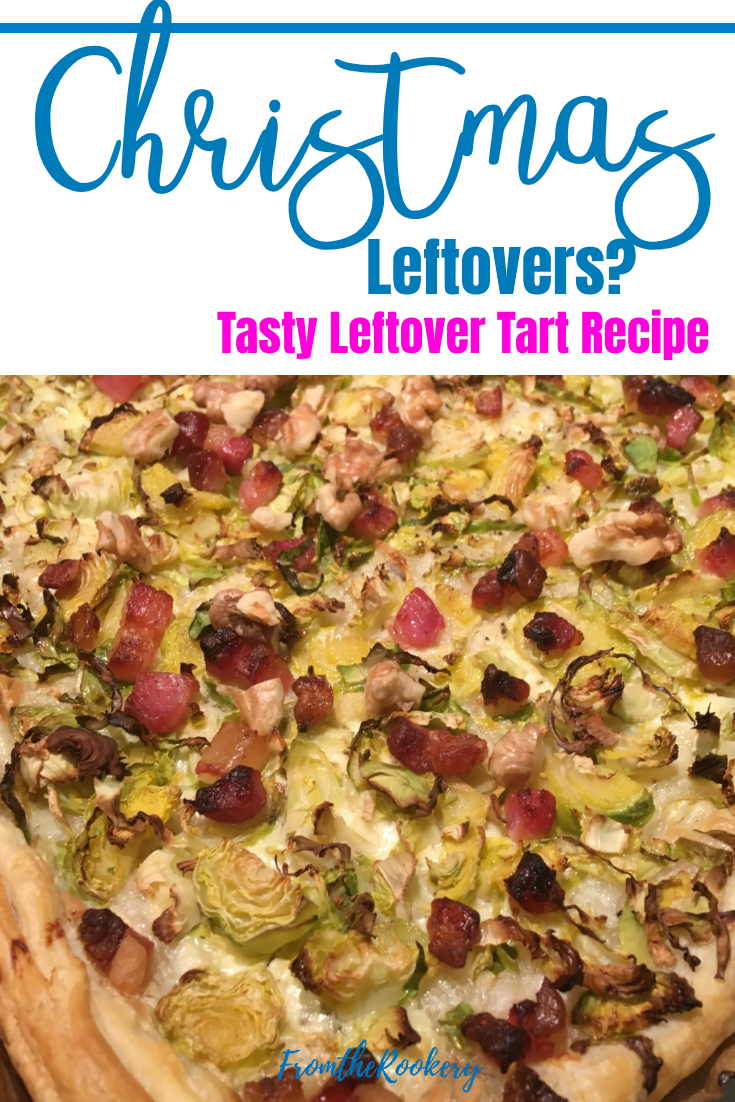 Christmas Leftover Tart Recipe
Like this? I would love it if you would share!