Lunch Invitations
Printable Free Luncheon Party Invites 
Are you looking for some free printable lunch invitations for your luncheon party?
There is something nostalgic about hosting a lunch party in this day and age. Lunch is a perfect time to socialize - or discuss a business proposition. It can be as informal as a trip to a Pizza bar - or a several course banquet. These invites will help you invoke that sense of a bygone age - the getting together to share food.
Whether you are hosting the luncheon for a bridal shower, as lunchtime birthday party invitations or just for fun, these invitations are sure to please.
These old 'masters' are inspired by still-life paintings of tables set with food. The elegant invites fold to make a card with space to write your party details. And leaves plenty of room for directions or other details. 

Printable Lunch Invitations
Based on an Old Master, this invite really invokes days gone by. Perfect for a formal occasion. Or I think this one might work for a picnic too, don't you?
Tempt your guests by including a pretty printout of your menu.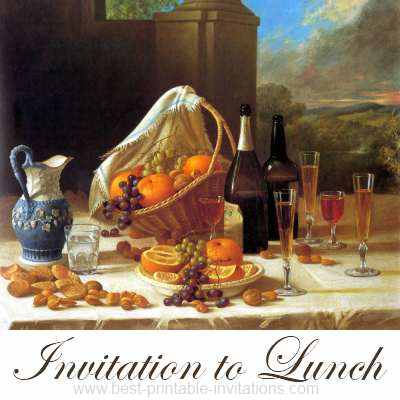 Free Printable
Old Master Lunch Invite


Letter -
Lunch Invite.

A4 -
Lunch Invite (A4)

Again, another very gorgeous invitation. 
This prints onto a single page of paper and then folds into a sturdy card.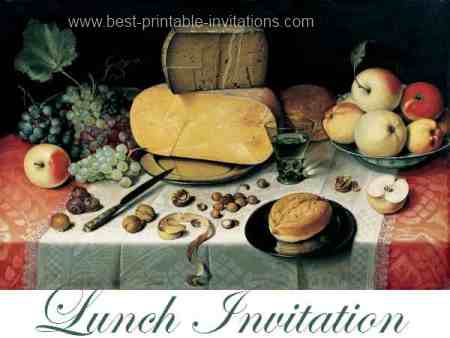 Free to print version
Formal Lunch Invites


Letter -
Printable Luncheon Invitation.

A4 -
Lunch Party Invitation

I hope you like these two invites and they work well for your event.
If not, check out some of the other designs on this website.
More lunch invites
FromtheRookery

›
Lunch Invitation
›
Lunch Invitations
Like this? I would love it if you would share!