60th Birthday Party Invitation
Free Printable Sixtieth Birthday Invites
Looking for a bright and fun 60th birthday party invitation?
This one could be just what you are looking for! This free printable invite prints two copies to a page - just print and cut apart.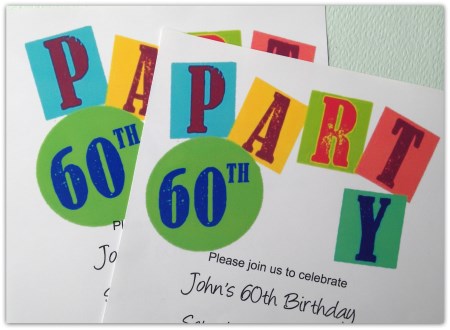 A sixtieth birthday is definitely cause for celebration - and this boldly colored invitation will get everyone into party mood. Plus there is plenty of space on the back of these invitations to write directions or other party information.

60th Birthday Party Invitation
Simply scroll down to choose your paper type (A4 or letter). Use the links to open the invitation in a new window, ready for printing. If you need some help with printing then see this page on how to print invitations.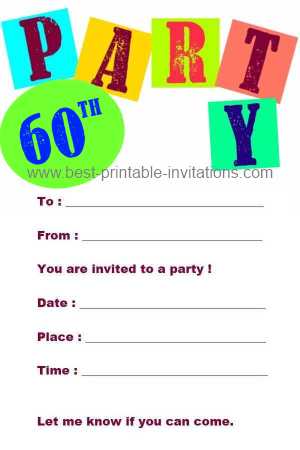 This stylish looks great printed onto paper - or try light weight card for a more formal effect. Colored paper would work well too - but do a test before printing out lots.

Free printable version:
60th Party Invite 

Letter -
60th Birthday Party Invite.

A4 -
60th Birthday Invitation (A4)

Customize your invite
Most people are busy and sitting down to write out invitations takes time. You can say goodbye to the hassle by creating an instant customized copy of your very own. A click of a button and it is all done! How helpful is that?
Let me save your time and effort! Customize this invitation with your party details.
Fill out the form below.
Preview your invite until you have it the way you want it. You can even print it out to check it.
Click buy and get instant copy you can download and print.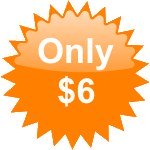 Add your details here:
(Turn phone sideways to see formatting options!)
Be sure all details are correct BEFORE you buy!

Got it the way you want it? Click Buy Now for immediate download!

---
Make sure you print an extra few copies of your invitation in-case you need to run an extra few off for last minute guests. Keep your guest list handy and mark off each person as you fill out the invite for them. You can use the same list to keep track of who accepts your invite and who needs chasing for a reply.

More Birthday Invitations
Still looking for an invite? Try one of these.

Have an absolutely fabulous party! I hope it goes well for you.
FromtheRookery

›
60th Birthday Invitations
›
60th Birthday Invite