Free Bridal Shower Invitation
Looking for something a bit different in a free bridal shower invitation?
This printable wedding bridal shower invitation folds to make beautiful and fun invitations.
Bridal invites can be fun - and this happy picture of a newly married couple really invokes the joy of the day.
This invite looks nice on crisp white paper. But try a pale blue if you want more color.

Free Bridal Shower Invitation
This fun invite makes me want to smile whenever I see it. The couple look so happy - a perfect way to invite your guests.
If you would like a wedding invitation to match, check out these funny wedding invitations.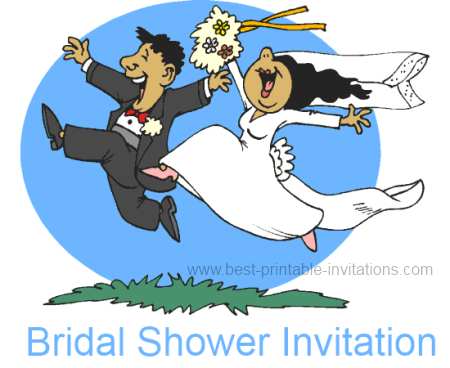 Free printable:
Happy Couple Invite 

Letter -
Printable Bridal Shower Invitation.

A4 -
Free Bridal Shower Invites - happy couple design

---
Bridal Showers don't have to be stuffy and formal. This invite would suit a very relaxed, informal occasion. Perfect for inviting a few friends in a fun way.
But do take some time over choosing your printable bridal shower invites - it will make you feel a lot happier over the finished result! All the invites on this site are free, so why not print out several before choosing - you may change your mind when you see them printed out.
Help your guests feel relaxed about coming to your event. Give them clues in about whether it is a formal occasion that they will need to dress up for. Or a relaxed family get-together where anything goes. The type of invite you send will set expectations.
Get organized before you start writing out the invitations by making a list of everyone you want to invite. That way you won't miss anyone important.
Write out your invitations carefully. You don't want to misspell the name of a guest, or give the wrong time or date. Work through your list slowly and carefully - and print out a few extra invitations just in case!
I hope you have a wonderful day!
Why not take a look at my other invitations before you decide :)

More Invites
FromtheRookery

›
Bridal Shower Invitations
›
Free Bridal Shower Invitation
Like this? I would love it if you would share!