50th Birthday Party Invitation
Free Printable 50th Invitations
Hitting the big five-oh? This free printable 50th birthday party invitation is just the thing to help you celebrate in style.
Somehow, turning fifty seems like quite a milestone, doesn't it. And if you are having a celebration of any sort, then you will need a way to invite your guests.
These stylish invites fold to make invitation cards that you can use to tell everyone how to celebrate with you.

Free Printable 50th Birthday Party Invitation
Simple but stylish. The wording on these invites say it all. There is a lot to be said for keeping things simple.
If you would like to print this invite just choose your paper type (A4 or letter). Then click on the links to open the invitation in a new window, ready for printing.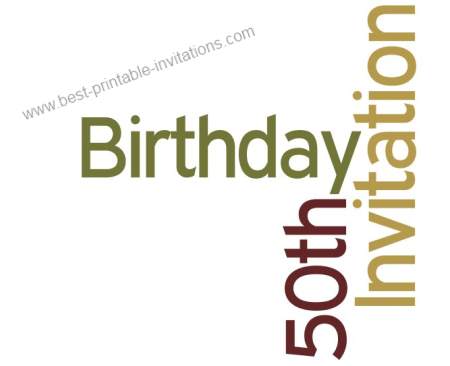 Free printable version:

50th Word Invite 


Letter -
50th Birthday Invite.

A4 -
50th Party Invitations

Using the printable invitations from this site is a great way to take the stress out of any celebration. But here are a few tips to make things go smoothly.
1. Check you have plenty of paper and ink in your printer before you start.
2. Print out a few of the invites first to make sure you REALLY like the one you have chosen.
3. Try out a few different paper types and colors. It can really change the feel of the invitation.
4. Let the ink dry a few minutes before you start folding. This will avoid any smudging.
5. Fold carefully. The finished invitation will be much nicer if you take a few moments to fold the edges together.
6.  When folded, this invites should fit well into a standard sized envelope - but be sure to take a copy along when buying what you need.
A fiftieth celebration can be as individual as you are. You will enjoy your birthday much more if you take the time to think about the type of event that YOU would enjoy. Are you a party animal? Or would you prefer a quiet meal with a few close friends?
Whatever your decision, choose your invitation with care to reflect the type of event.
Still looking for an invite? Try one of these.

More 50th Birthday Invites
I hope you have a really wonderful birthday!
FromtheRookery

›
50th Birthday Invitations
›
50th Birthday Party Invitation
Like this? I would love it if you would share!