Printable Wedding Anniversary Invitation
Is it your Wedding Anniversary? Having a party? Here is a free printable wedding anniversary invitation to invite your guests?
Anniversaries bring back great memories of your wedding - and make you keen to celebrate all over again!
This beautiful invite card is an easy way to invite your guests to come celebrate with you. 
Simply scroll down to choose your paper type (A4 or letter). Use the links to open the invitation in a new window, ready for printing.

Wedding Anniversary Invitation
A beautiful invite card featuring wedding rings.
Just print and fold the invite - then fill out your party details inside.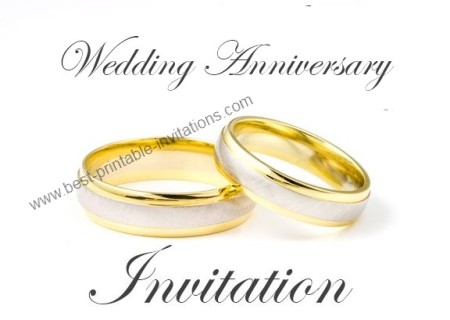 Free printable version:
Anniversary Invite 

Letter -
Printable Wedding Anniversary Invite.

A4 -
Free Wedding Anniversary Invite

Thank You Cards

Would you like an anniversary thank you card too?

These cards are a wonderful way to express your warm gratitude after your party. Take a look here.
Party Planning:
You probably know that traditionally wedding anniversaries are associated with symbols that represent how long you have been married. These are great to use as ideas for gifts, or to use as a theme for your party decorations. Here are some of the most common symbols -
1st - Paper
2nd - Cotton
3rd - Leather
4th - Linen
5th - Wood
10th - Tin
20th - China
30th - Pearl
40th - Ruby
50th - Gold
For a complete list of all symbols, see this Wikipedia list.
Planning your anniversary can be fun - just take a little time first to decide what you would both really enjoy. If you are both very sociable, then a large party with all your friends might be just the thing - but don't be afraid to choose an informal quiet meal with close family if that would suit you better. What would make your anniversary feel really special to you?
Next, you need to think about your budget! There are lots of ways to keep your costs down if you do a little research. Free printable invites are just the beginning! Can you hire a marquee instead of renting a venue? Can you cook the menu yourself instead of hiring outside caterers? Buffets or BBQs are usually a simple way to feed everyone.
If you are planning a larger party then things can get stressful - so remember to take some time out to relax together. Anniversaries should be special and romantic - not stressful and exhausting! Try to schedule some time together to just be alone, to chat, and to exchange gifts privately.
Happy Wedding Anniversary from me :)
More Invitations
I don't have any more wedding Anniversary (except 50th) at the moment but I think these other invitations would work well too.

FromtheRookery

›
Wedding Anniversary Invitation
Like this? I would love it if you would share!