Kids Summer Party Invitations
These summer party invitations are perfect for kids (and big kids!).
Two pretty summery free printable invites. These would be a wonderful way to invite your guests to a summer party. Whether it is for a birthday, or just to celebrate the arrival of the sun!
I have two different designs on this page. They both print two invites per page -  just cut them apart. Scroll down to take a look and pick the one you like best. No need to register.

Free Printable Summer Party Invitations
Bright and fun! I absolutely love the fun design of this one.
Bright bees, birds and butterflies with a sprinkling of flowers. This one really says summer to me.  The colors are bright and cheery and sure to get your guests in a party mood!
I think younger children will love this one (and a few grown-ups I know!)
Free printable version:
Birds, Bees and Butterfly Invite 


Letter -
Birds and Bees Invites.

A4 -
Fun Summer Invitation

---
Mmm. Ice cream! This yummy invitation is perfect for summer. It is another fun invite with dots and an ice cream cone.
This one does take a bit more ink for printing because of the background color.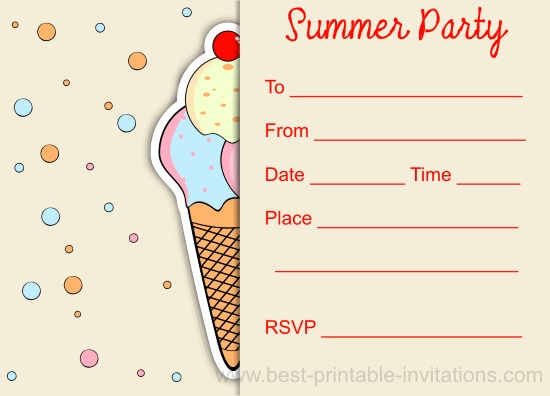 Print your own:
 Summer Ice Cream Invitation


Letter -
Ice Cream Invitation.

A4 -
Kids Summer Party Invites

---
I hope you like the design of these summery invitations. I think they would work well for different types of summer celebrations including picnics and birthdays.
If you are holding things outdoors, don't forget to make arrangements if it is raining. Particularly if like me, you live in the UK! There is plenty of space on the back of the invitations to lay out the 'rainy day' venue! 
If your guests can be flexible, then you could have a 'movable date' event. A friend of mine wanted to hold a barbeque during the summer vacations. She gave people notice of the start date - but told them that it would move out a day in case of rain.  Everyone was on alert - and on the first sunny day she phoned everyone and told them 'today is the day!'. Of course, not everyone could make it - but it had a wonderful impromptu feel to the day and those of us who could go enjoyed it immensely.
I hope you have a fantastic party!
If you want to look at more invitations before you decide, here are some ideas :)

More Kids Invitations
FromtheRookery

›
Printable Party Invitations
›
Summer Party Invitations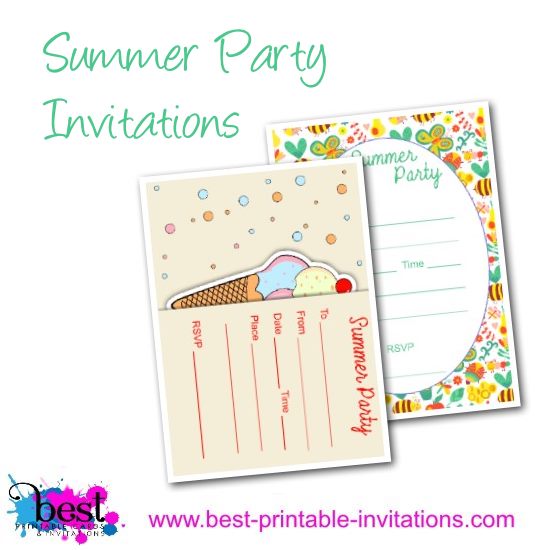 Like this? I would love it if you would share!