Printable Thanksgiving Invitations
Looking for some printable Thanksgiving Invitations for your Thanksgiving day dinner, party or reunion?
Although a traditional holiday, there are lots of ways to celebrate Thanksgiving. But finding an invite for your party or reunion isn't always easy.
These invites are flexible enough to suit all occasions - and free!
What more could you need?
FromtheRookery Tip:
Hand deliver your invites where you can to save postage costs.


More ideas?
Try this thanksgiving invitation instead.
These invitations are free for your personal use only.
The watermark in the images below will not appear in your printed version.
Simply scroll down to choose your paper type (A4 or letter). Use the links to open the invitation in a new window, ready for printing.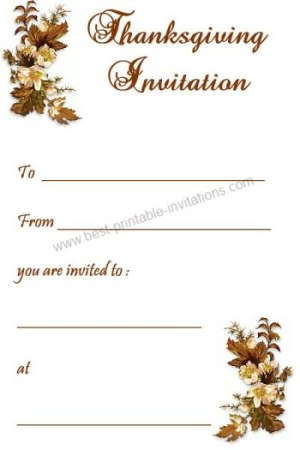 Scrolls of lovely autumnal flowers decorate this pretty invite. Prints 2 copies per page - just cut apart and you are ready to go.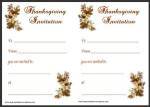 Letter -
Printable Thanksgiving Invite
.

A4 -
Thanksgiving Party Invitation
---
Pumpkins and fall leaves. The perfect way to invite your guests. Prints 2 copies per page to save you time and ink.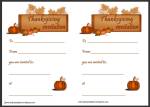 Letter -
Free Thanksgiving Invite
.

A4 -
Thanksgiving Party Invitation
I have tried to make these holiday invites as flexible as possible so you can use them in a variety of situations. Do be sure to be specific when writing them out for your guests. Are they invited for the day or just dinner? Let them know what time to arrive - and put an end time on too if you wish.
Make sure you send your invitations out in good time so that everyone can make arrangements. And let your guests know if (and how) they need to let you know if they can make it.
If you need to add extra directions, or to ask your guests to bring something along with them - then you could use the back of the invite. Just write a little 'PTO' on the front so they don't miss it.
"Thanksgiving dinners take eighteen hours to prepare.
They are consumed in twelve minutes.
Half-times take twelve minutes.
This is not coincidence."

- Erma Bombeck.
FromtheRookery

›
Thanksgiving Invitations
›
Printable Thanksgiving Invitations
Like this? I would love it if you would share!