Printable Easter Party Invitations
Having a kids Easter egg hunt Party? These printable Easter party invitations will be just the thing.
Kids just love hunting eggs - and parties in general! So why not combine the two. And these free printable invites will make inviting your guests a piece of ....chocolate egg! Two great designs both featuring chocolate eggs.


Printable Easter Party Invitations
Very cute chick on an egg. A fun way to invite guests to your party!
This invitation prints onto a single page and then folds to make a card. Lots of space inside to write out the event details.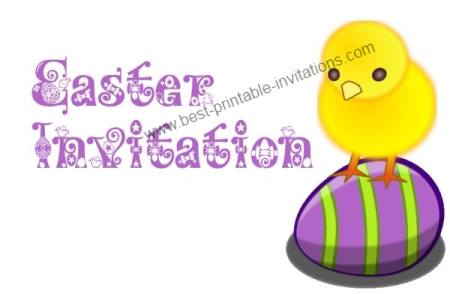 Free printable:
Chick on Egg Invite 


Letter -
Printable Easter Invite.

A4 -
Easter Egg Invitation

---
Simple but classic design of a pile of colored eggs in a basket. This is quite striking when printed up. It prints onto a single page then folds into a card. Don't use paper that is too thick, or it will make it difficult to fold.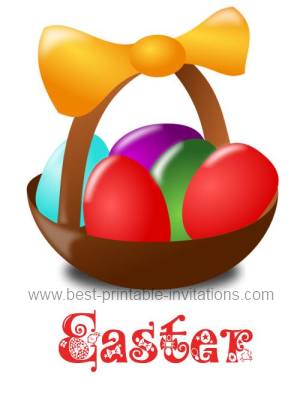 Print your own:
 Easter Basket Invitation


Letter -
Printable Egg Basket Invitation.

A4 -
Easter Invite Card

---
No Easter party would be complete without an egg hunt - however old your guests! No-one is ever to old for this fun game! If you are looking for more activities, how about these easter crafts for kids? 

Eggs have played a big part at this time of year for centuries. The egg has been a symbol of birth around the world for centuries. Exchanging eggs in the springtime is a custom that goes back many centuries. They were often wrapped in gold leaf (if you could afford it!) or colored brightly by dying them with leaves and petals. 

When I was a child we would take our dyed eggs and roll them down a nearby hill. The winner was the one who could get their egg to the bottom intact! It is a good idea to take spares - everyone is gong to want a second try. 

You can find out more about Easter egg traditions at Wikipedia - and check out this bizarre tradition reported by the BBC. 

I hope you have a wonderful party!
I have other printables if you would like to take a look :)

More Easter Invites
FromtheRookery

›
Easter Invitations
›
Printable Easter Party Invitations