House Warming Invitations
Got a new house? These free printable house warming invitations will help you invite your guests over.
Moving home can be stressful - so what better way to unwind than throwing a party for your friends. A housewarming will help you feel more at home in your new house - and let your friends come over to take a look!
And with free printable invites, you will have more budget to spend on your home.
Don't forget to include your new address on the invites. You want your guests to be able to find you!

Free Printable House Warming Invitations
Simply scroll down to choose your paper type (A4 or letter). Use the links to open the invitation in a new window, ready for printing.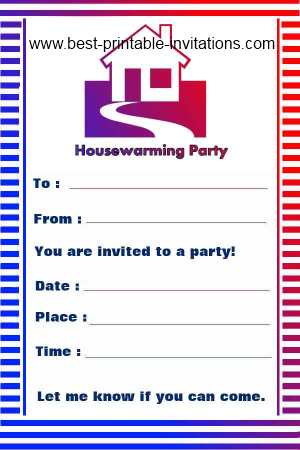 Free printable version:
House Warming Invite 


Letter -
Free Housewarming Invitations.

A4 -
Printable House Warming Party

---
A similar invite but in different colors. Print them both to see which you like the best.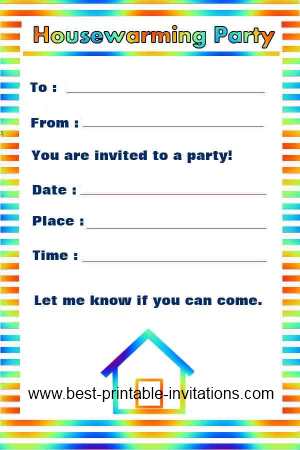 Print your own:
House Warming Party


Letter -
Free Housewarming Invitations.

A4 -
Printable House Warming Party Invites

An important thing with house warming parties, is getting organised before your move. Packing up an old house and unpacking again in the new one is hard work - so the more organized you are about it, the easier and less stressful it will be.
According to wikipedia, house warming invitations can be sent up to 3 weeks in advance. If you know you will be hosting a housewarming, then you can send out the invites either just before or just after the moving date.
If you know you want to throw the party not long after you have moved, then pack everything you will need into separate boxes and mark them clearly. That will save you from having to unpack everything! What will you need? Glasses, plates, bottle opener? Make a list of the special dishes or equipment you normally bring out for parties. Is it a BBQ? Then make sure your BBQ equipment isn't packed and stored at the back of the garage where you can't get to it!
Speaking of food :) what are you going to serve your guests? A pot luck meal is a popular choice - particularly if your haven't been moved long. If your are choosing and preparing a menu yourself then your favorite cookbook needs to be kept handy!
Do you want to turn your party into an opportunity to rope your friends into doing a few jobs around the house and garden? Use these special free printable housewarming invitations to let them know about it.
Most of all, try to relax and enjoy yourself! By getting organized beforehand and keeping things simple, you are sure to have a great time.
More House Warming Invitations
Still looking for an invite? Try one of these.

I hope you enjoy your new home!

FromtheRookery

›
Housewarming Invitations
›
House Warming Invitations
Like this? I would love it if you would share!