Free Thanksgiving Invitation
Want to invite someone to spend Thanksgiving Day with you? Why not print out this free thanksgiving invitation?
This lovely invite design was adapted from a lovely picture from Frances Brundage - an American illustrator. The quaint design is still very appealing even today.
FromtheRookery Tip:

If you would like your guests to leave by a certain time then simply put a start AND a finish time on the invite.





Thanksgiving Day is a wonderful time to spend with family and friends, and this invite is a wonderful way to invite them. This is one of my favorite designs so I hope you love it as much as I do.
These invites print onto a single page and fold into a card. Don't forget to choose the correct paper size - either A4 or letter.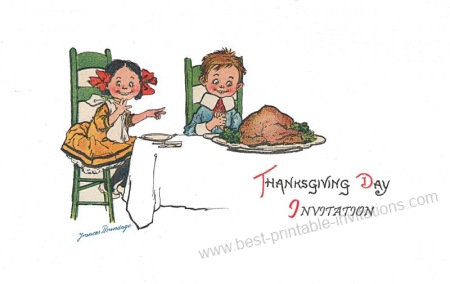 You can find out more about Frances Brundage here.
Go to FromtheRookery Home from Free Thanksgiving Invitation
Like this? I would love it if you would share!