Free Printable Bridal Invitations
Unique Bridal Shower Invites
Looking for some unique Bridal Shower invitation cards?
These free printable bridal invitations are bright and fun.
These brightly worded invites are a bold way to invite your guests - they have a unique modern look that works well for a modern bride.

Print on white paper for a crisp, stylish look. Or experiment with printing onto different colored paper to get a different effect. 

Free Printable Bridal Invitations
Brightly worded, these invites are a bold modern design. Perfect for modern brides, and a great way to invite your guests.

Free printable:
Bold Wording

Letter -
Printable Bridal Shower Invitation Card.

A4 -
Printable Bridal Invites

---
Make a statement with this boldly worded invite. The colors would especially suit a fall bridal shower.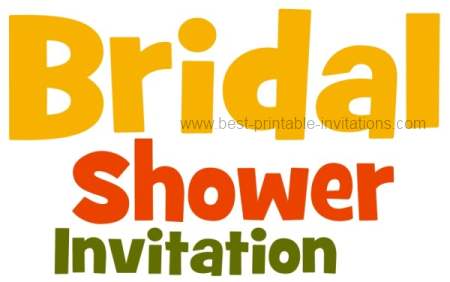 Print your own:
Bold Invite

Letter -
Unique Bridal Shower Invitation.

A4 -
Unique Bridal Shower Invite (A4)

Planning Ideas
Careful planning of your bridal shower will help to make it go smoothly. Think about the type of event you would like. Fun? Sophisticated? A quiet memorable event? Or a wild party!
A little bit of creativity will go a long way. A few party games will help break the ice amongst the guests. And carefully decorated cupcakes can be just as effective as an expensively decorated cake.
And don't forget to include full details of the shower in your invites. Include maps, directions, gift lists - and any other details your guests need to know.
More  Invites
FromtheRookery

›
Bridal Shower Invitations
›
Free Printable Bridal Invitations
Like this? I would love it if you would share!