40th Birthday Invitation Ideas
Having a Fortieth Party? Here are my 40th birthday invitation ideas.
Turning forty can be fun - and it is great to celebrate with a party. But we all need some ideas from time to time - and deciding on invitations is no exception!
Here are some invite ideas you can use - and some example free printable invitations to match!

Take your time deciding on your invite. Try to find something that matches your party theme - and your personality.
40th Birthday Invitation Ideas
Invites come in all shapes and sizes - just like 40th birthday parties! So it pays to spend a little time getting ideas for the invites.

Photograph Invites
It is popular to use a photograph of the birthday person on your invites and wording such as 'Guess Who's 40!'. Sometimes a baby picture is used in place of a current photo - or the two are placed side by side.
If you need a little help in making this type of invite, why not use this invitation template. Print and fold - then glue a photograph inside the picture frame.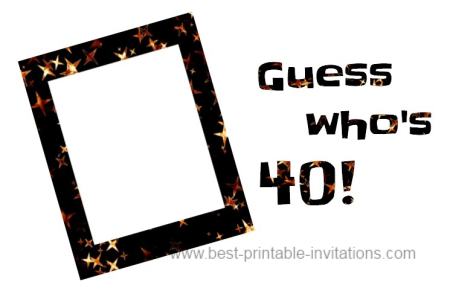 Free Printable
Photo Frame Invite

Letter -
Free 40th Birthday Party Invite.

A4 -
Printable Fortieth Party Invite

---
Funny Invitations
Humor goes a long way (although I know there is nothing funny about turning forty!!).
It can be fun to play on the age thing in the invite. In the design below I have used a fire truck putting out the candles on the cake.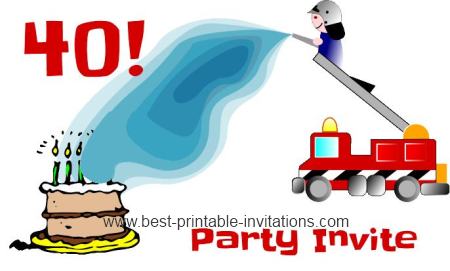 Free to print
Fire Truck Invite

Letter -
Funny 40th Birthday Invitations.

A4 -
Printable Funny 40th Party Invites

Other ideas for funny invites would be to use wording like 'not quite over the hill' or 'maturing like a fine wine'. If you would like to see how these could look check out my other funny 40th birthday invitations. 

Personal Invitations
You could design the invitation to suit your hobbies or interests.
Are you a keen golfer? Try a golfing picture or stick the names of famous golf courses on the front. A quilter? Why not use a photograph of one of your quilts?
You can use pictures from the internet from sites such as Clker.com - just do a search for the hobby you are interested in.
Get creative. A keen theater goer could make invitations that look like tickets. A keen gardener could use the front of old seed packets as the front of the invites. A fashion fanatic? Cut invites shaped like handbags!
Just stop and think about the things you love, and you are bound to come up with some great 40th birthday invitation ideas.
Surprise Party Invitations
Is the party a surprise? Why not use wording such as 'keep it under your hat' on the front of your invite. Take a look at my surprise party invitations.

General Party Invitations
Of course, you don't even have to mention that you are having a 40th on the invitation itself. (Hey - let them think you are 30!)
That opens up a whole new world of invitations to you - like these printable party invitations.
---
I hope that gives you some ideas to get you started. And I hope you have a great 40th birthday.
More 40th Birthday Invitations
FromtheRookery

›
40th Birthday Invitations
›
40th Birthday Invitation Ideas
Like this? I would love it if you would share!