Retirement Gifts for Women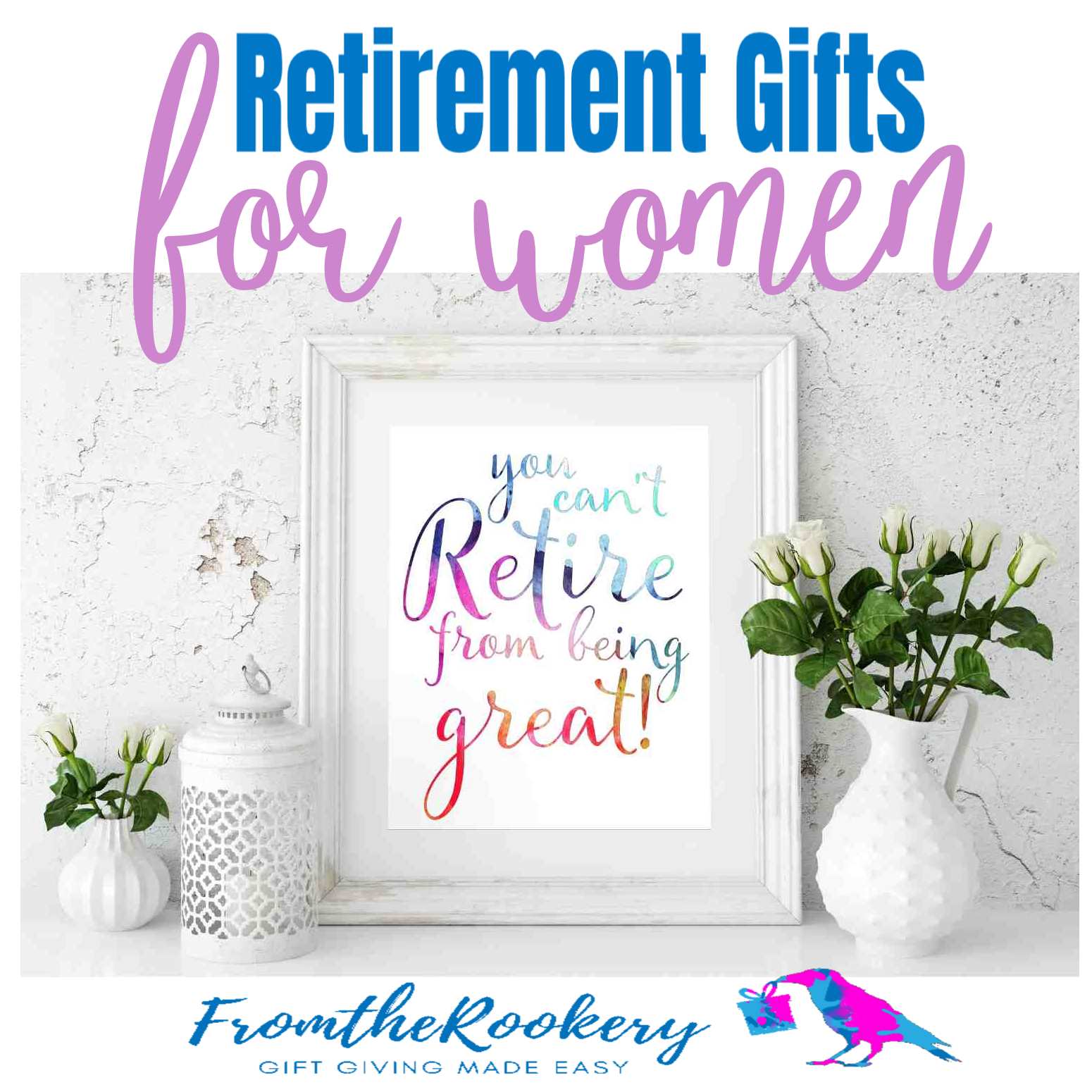 Finding the perfect retirement gifts for women doesn't have to be hard. Whether you are looking for a female friend, a colleague or your Mom, I have some great ideas to share. These unique present suggestions are sure to be a big hit!
Please note that some of the links in this post are affiliate links, which means if you buy (at no extra cost to yourself) I get a (very) small percentage of the sale. If you would prefer not to support this site in that way, just navigate to the product site yourself.

Maybe I am just at that age but it seems like a lot of people around me are retiring :) And of course, I want to find just the perfect present for them. I have put all my female gift ideas together on this page and I hope you find just the right idea.
Retirement Gift Card Holders
Sometimes the easiest, simplest gifts are the best. Gift card holders let you gift vouchers, money or cards for the retiree to choose their own gift at a later date. There are several different ways you could do this - I love to choose suitable print, add the money or gift cards and then frame. This gives you something to wrap and gift - and looks like you have actually put some effort into it!
Here is a great example: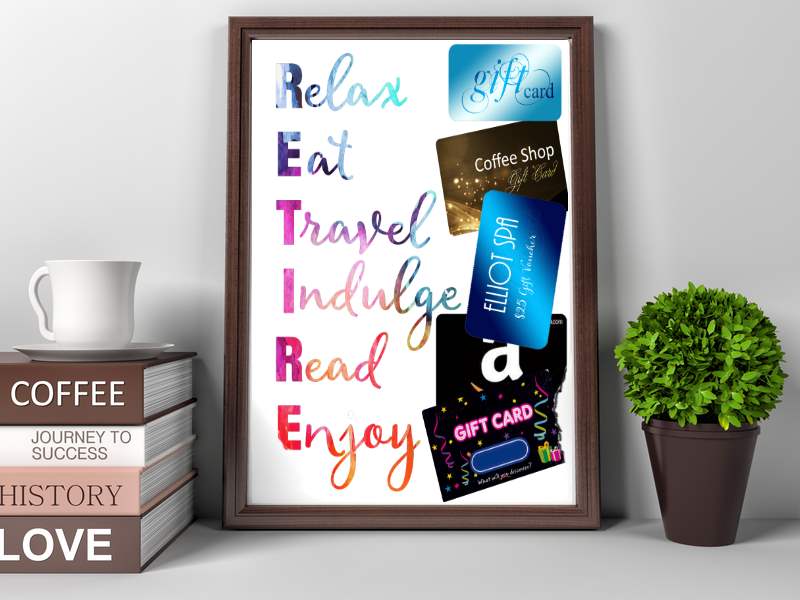 Printable download available here!
The print is pretty enough on its own to print and gift - but there is space for you to add gift vouchers to go along with the theme. 

Several gift cards can be added depending on which size you print. Here are some ideas to go along with the wording-

Relax - local spa gift card, hairdressers, golf club voucher, 

Eat - local restaurant or coffee shop gift card.
Travel - Travel vouchers or train tickets. Car valet voucher.
Indulge - Spa, chocolate shop gift card, florist voucher, 
Read - bookshop gift card, magazine subscription voucher.
Enjoy - local cinema gift card, florist gift card
You can see more gift card holders here.
---
You can't Retire from being great!
Printable download available here!
This fabulous quote in a soft watercolor is perfect for women retirees. It makes a lovely gift when printed and framed. For employees or colleagues, try framing with a large mat so colleagues have room to sign too.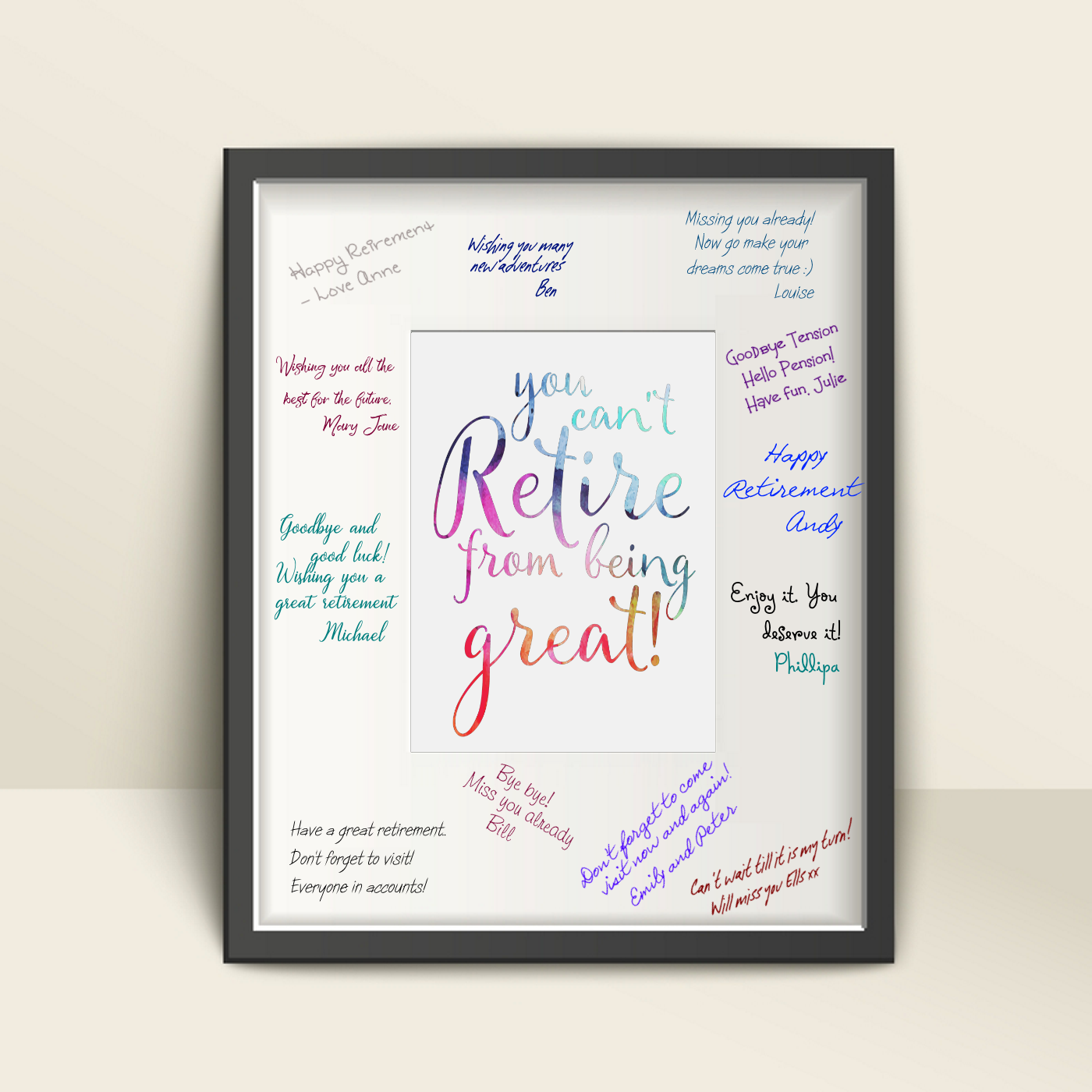 ---
Retirement Gift Baskets
Pulling together a gift basket can take a little thought but makes a unique present. Think about what the retiree loves to do and choose gifts they can really appreciate. 
It doesn't have to be a large basket. Here are some simple ideas!
You can use the gift card idea above  and add a gift or voucher for Relax, Eat, Travel etc. 
Work will suck without you - a basket of lollipops!
Retirement survival kit.
Open When basket.
---
Notebooks and Journals
Notebooks and journals are one of my 'go to' gifts! Almost everyone can use a blank lined book even if just to write out a shopping list! Notebooks make great retirement gifts - a place the retired person can jot down what they want to do with the rest of their life. Is it time for them to write their memoirs? Plan to travel the world? Keep a track of the great new hobbies they want to try? They will need a notebook!
Here are some of my favorite retirement themed notebooks from Amazon:
---
We Can't Bear to See You Retire!
For the really difficult to buy for, how about a handmade teddy bear? Especially when paired with this free download sign, it makes a cute gag gift that the retiree will treasure. 
Handmade bears are usually one of a kind, collectors bears. And come in all shapes and sizes :) Why not challenge the retiree to take their bear on some adventures and keep you all updated? You could even provide them with a bear bucket list.
Bears are good for adding to a gift basket too!
---
Appreciation Gifts
How about a little appreciation? These blank lined notebooks are a lovely way to say thank you for all the retiree has done over the years. Why not use the first page to write a message of your own.
---
More Retirement Gifts
FromtheRookery

›
Retirement Gift Ideas
›
Retirement Gifts for Women
Like this? I would love it if you would share!