Pajama Party Invitation
Having a sleepover? This pajama party invitation is a really fun way to invite your guests.
Don't you think the design on these unique slumber party invitations really captures the feel? They are bright and fun - and will really get your guests excited about the sleepover!
These invites print two to a page, with lots of room to fill out your sleepover details.

There is space on the invitations to list items for your guests to bring. Why not look at the checklist on the bottom of this page.
Free Pajama Party Invitation

Bouncing on the bed! I had this great picture designed especially for you and I think it makes for a really unusual invite.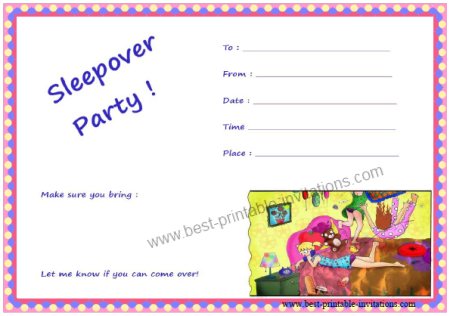 Free printable
Slumber Party Invite

Letter -
Free Pajama Party Invite.

A4 -
Printable Pajama Party Inivte

---
Pajama Parties are easy to organize - and fun to have. But a little planning will help things go more smoothly.
Send out your pajama party invitations in plenty of time - you want your guests to be able to make it. The invites on this site are quick and easy to use. Just pick which printable you like, print and you are ready to go.
Hand delivering the invite will save you money - and give you lots of room on the envelope to personalize it! Why not use stamps or stickers to give it a unique look? It will help to build up the excitement.
So, how can you make your party go smoothly? Firstly help your guests to bring what they need. There is plenty of space on this invite to make a list. Tell your guests if they need to bring :
Pajamas!
Sleeping Bag
Pillow
Toiletries and toothbrush
Journal
Make up. nail varnish and face packs
Hair accessories
Board Games
Favorite Movie
Favorite cuddly toy
Torch
Nintendo or other gaming console - plus games
Their favorite music
Don't forget to include directions to your house (there is plenty of room on the back of the invite!) and tell parents what time to pick up their children the next day.
According to wikipedia a sleepover often involves another activity in the evening - such as bowling or going to the cinema. If you plan on this, then do get permission from the other parents beforehand.
What about the sleepover itself? Make sure you have plenty of snacks and things to do ready. It is important to know if any of your guests have food allergies or things they don't like, so you can cater for their needs. I usually pack up a 'midnight feast' hamper - my children love to unpack it (usually way before midnight!) and see what surprise snacks they have.
Quiet activities such as journaling or an art activity can be as much fun as noisier games! My children love face painting so I always make sure to stock up on face paint beforehand. You can print out some designs here and leave them to it! A disposable camera makes a great way for them to record their efforts, and gives everyone a nice memento of the event. Or if you can trust them with your digital camera - why not print out their photos half-way through the evening, and give them supplies to make a small photo scrapbook each.
I hope these ideas help everyone to have a great time - but that you get some sleep eventually!
More Pajama Party Invitations
FromtheRookery

›
Free Printable Invitations
›
Pajama Party Invitation
Like this? I would love it if you would share!