Birthday Invitations for Kids
Free Printable Children's Party Invites
Having a party? These birthday invitations for kids are the perfect way to invite your children's friends.
On this page I have two lovely designs - one for boys (or tomboys!) and one for girls. Which is your favorite?
Printable invitations make a great choice for a kids birthday. The templates here are easy to use and are available in several versions - including a free one of each design.

Stylish on their own, they are easy to personalize with a little glitter or some sequins. 

Birthday Invitations for Kids
First up - the boy or tomboy version. I thought there were lots of pretty invites out there for girls, but it seemed harder to find one I liked for my boy. So this is what I came up with.
This one would suit a younger aged boy. If you would like to add a design feature yourself, then how about making a string of small pennants from red paper, and attaching them at the top. There are some instructions here.  Attach them over the top of the printed design at the sides only, so they hang down freely. A little glitter on the birthday cake would also add a nice touch.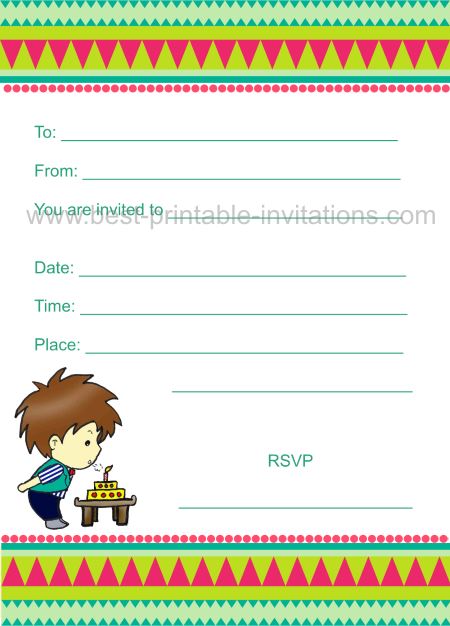 Free printable:
Boy Birthday Invite 


Letter -
Red Pennant Invitation.

A4 -
Boy Birthday Invites

Printed and delivered:
Is this a special birthday?
It is easy to have this design printed and delivered on card, and with envelopes. 
Click on the invitation below and customize the text to your own party details.
---
Something a bit more feminine! This design would also work well for a younger aged child.
This one is easy to make your own. You can add sequins and sparkly flowers to the border and glitter to the cake. And how about a little sparkle to the party dress!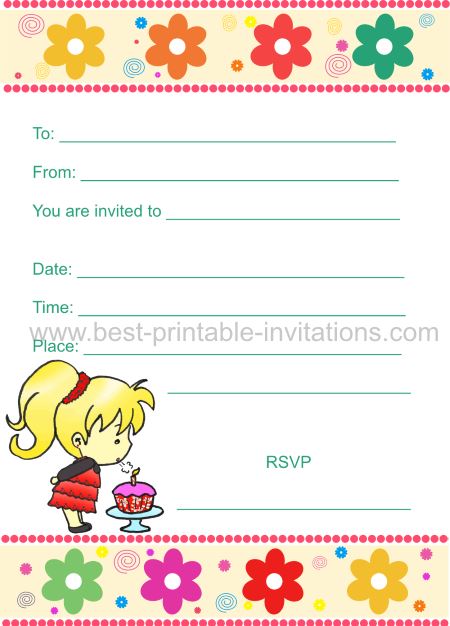 Print your own:
Girl Party Invitation


Letter -
Flower Invitation Template.

A4 -
Girl Birthday Invites

---
I hope you have fun at your celebration, and find my invites useful.
Planning a birthday party needn't be hard work - or expensive. There are lots of ways to add diy decorations. Sometimes the small things make a huge amount of difference. 
If you are struggling for ideas, or don't know which theme to pick, take a look at my pinterest board. It is packed with kids diy decoration ideas: 
Follow Julie @ FromtheRookery.com's board Kids Parties on Pinterest.
Want to see more printable ideas? I have lots (and lots and lots!) of designs on my site suitable for kids. Here are some :

More Kids Invites
FromtheRookery

›
Kids Party Invitations
›
Birthday Invitations for Kids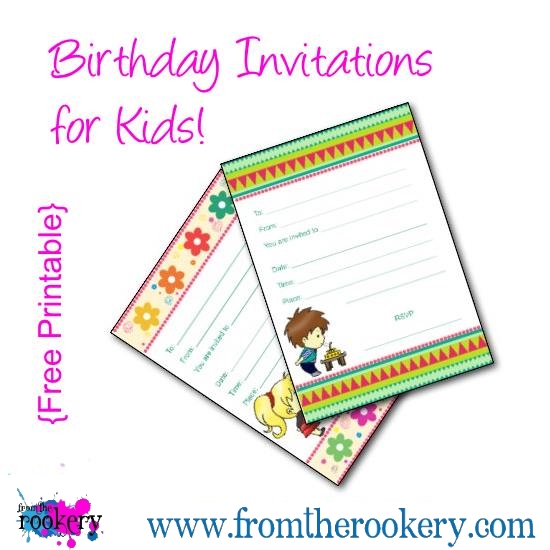 Like this? I would love it if you would share!