Daisy Wedding Invitations
Getting married? Congratulations! Daisy wedding invitations are a beautiful way to invite your guests to the celebration.
Daisies have a beautiful symbolism that make them so perfect for marriage invites. They represent loyalty to love, simplicity, purity, innocence, and commitment.
This timeless flower is captured for these two beautiful invitation designs. I hope you love them as much as I do.


Daisy Wedding Invitations
The first of these designs is of pink daisies. Very simple and classic. This makes a very stylish invitation. Would suit a pink wedding theme.
Print your own:
Pink Daisy Invite 


Letter -
Daisy Invites.

A4 -
Daisy Wedding Invitations

Printed and delivered:
If you love this design, why not have it professionally printed and delivered? This invitation is fully customizable with your own event details and is available in several sizes and paper types. Do order a single sample before you commit to a large order.
---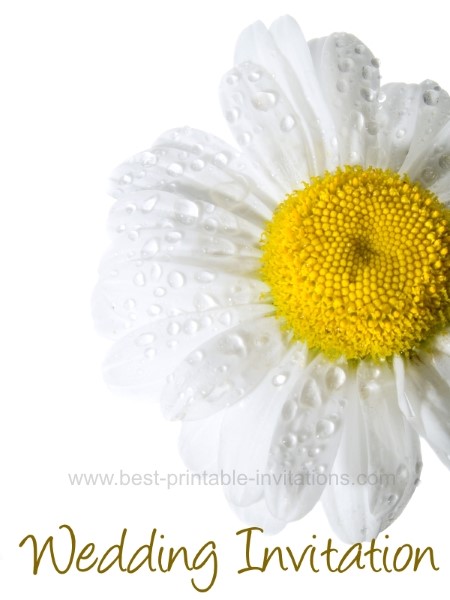 Print your own:
White Daisy Wedding Design


Letter -
White Daisy Invitation Card.

A4 -
White Daisy Wedding Invites

---
Daisies are believed to be more than 4000 years old and have been used as a decoration right back to Egyptian times. Part of the Asteraceae family, the word 'daisy' comes from the Old English words 'day's eye' because of the way it opens and closes it's petals at dawn and dusk.

Daisies make wonderful bouquets and centerpieces for weddings. Check out some of the ideas for daisy themed celebrations on my pinterest board.
Follow Julie @ FromtheRookery.com's board Daisy Wedding Theme on Pinterest.
I hope you love these daisy designs as much as I do. If you want to look at more flower designs, please check out my other wedding invitations.

More Wedding Invitations
FromtheRookery

›
Printable Wedding Invitations
›
Daisy Wedding Invitations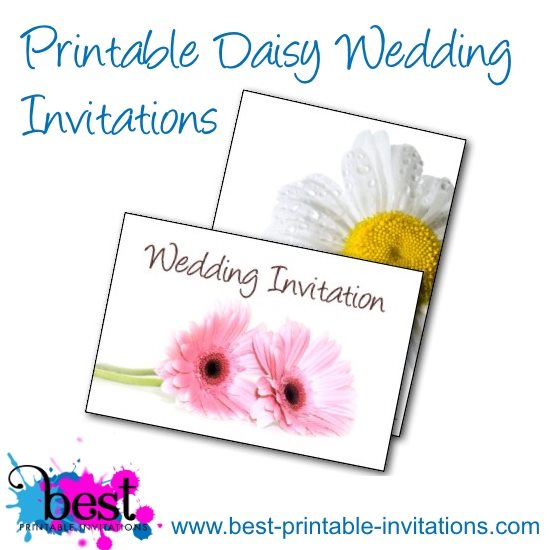 Like this? I would love it if you would share!