Budget Wedding Invitations
Beautiful and Elegant - Free Printable Invites
Looking for affordable invites? These budget wedding invitations are beautiful and elegant - and free!
When you are trying to organize a wedding to a budget, the last thing you need is to spend a fortune on your invitations. But you don't have to compromise on quality to reduce your costs.
These free, modern invites are printable at home. So you just need to pay your own printing costs. Stock up on plenty of ink, nice paper and envelopes - and you are home and dry! Making this a great way to stick to your budget.


Budget Wedding Invitations
Beautifully designed wedding ring invite card. This looks really elegant printed onto a crisp white paper. Affordable, but stylish.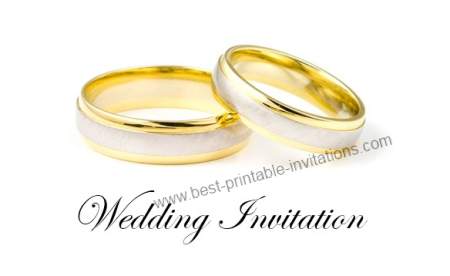 Print your own:
Rings Invite 

Letter -
Printable Wedding Invite.

A4 -
Budget Wedding Ring Invite

---
Another variation on the marriage ring theme. This version introduces a little color into the design.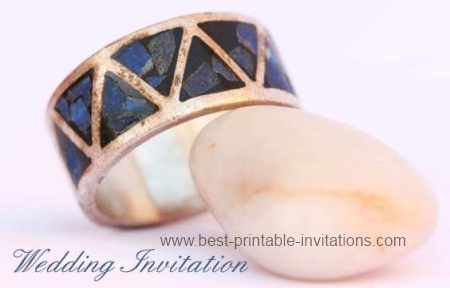 Print your own:
Blue Ring

Letter -
Printable wedding invitation.

A4 -
Free Budget Wedding Invite

---
Planning a wedding to a budget can be stressful - especially if the budget is a small one! But there are lots of ways you can keep things affordable if you plan ahead.
Decide what is really important to you in advance.
Have you always dreamed of the perfect dress? Or do you have a thing about flowers? Write out each element of your wedding plan and decide what your absolute top priority will be. Then work your budget accordingly.
I spent a lot on my flowers, but cut back on the decoration of my cake, my dress (my Mom made it!) and the car to take me to church. If I had to do it all over again, then I would probably have spent a little more on the photographer. We didn't have the service recorded onto video, so the photographs are the only memento of the day that we have.
Try to keep your guest list to an absolute minimum - and do shop around before decide on things like a venue. There is a lot of difference in the price of hiring halls or marquees. And in budget wedding invitations! Remember that the season you hold your wedding in can also make things more expensive or more affordable and effect your budget. Flowers seems to shoot up in price around valentines and Christmas, for example. Choose more affordable seasonal flowers and a seasonal menu!
Don't feel that everything has to be over the top. Remember that a wedding is about love - not how much you have spent on it! Keeping things simple does bring an elegance and simplicity into the day that can't be bought. Focus on the important things that make a difference - like the speeches you make and being with your guests.
And a final tip! Save on postage where you can by hand-delivering your invites.
More Wedding Invitations
FromtheRookery

›
Printable Wedding Invitations
›
Budget Wedding Invitation
Like this? I would love it if you would share!