Printable 1st Birthday Party Invitations
First birthday? I have designed two beautiful 1st birthday party invitations to help you celebrate.

Simple and unique - these bright invites are a stylish way to announce your baby has reached their first milestone!
TIP: Let the birthday child's siblings invite a special friend over for the day so they don't feel left out.

1st Birthday Party Invitations
A bright and bold design suitable for both girls and boys. This invite is sure delight your guests. 

Free to print:
Bright and Bold

Letter -
Printable 1st Birthday Invitations.

A4 -
Printable First Birthday Party Invite

---
Perfect for the star of the show! This starry invite is stylish and modern.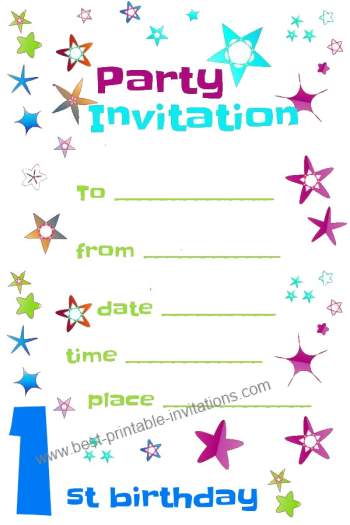 Print your own:
Star Birthday Invitation

Letter -
Printable 1st Birthday Invitations.

A4 -
1st Birthday Party Invites

---
I learned when planning parties for my children that great kids parties need only 2 things. Use bright colors, and safe, durable materials like plastic or rubber (to make clearing up a dream).
You can make durable tablecloths out of anything plastic - twister boards, alphabet puzzles or brightly colored shower curtains. These aren't usually much more expensive than paper tablecloths - but take wear and tear much better. When the third child has spilled their juice, you will be glad you opted for something waterproof!
And bright colors? Well, you may be swayed by the beautiful party decorations available - but kids love things bright and cheerful. It will be much easier (and cheaper) if you stick to primary colors. You will be able to mix and match more easily and won't have to spend hours hunting for a napkin that doesn't clash with your chosen color scheme!
More Party Invitations
FromtheRookery

›
First Birthday Invitations
›
1st Birthday Party Invitations
Like this? I would love it if you would share!