Printable 1st Birthday Invitation
Free First Birthday Party Invites
Looking for a 1st birthday invitation? Try these cute free printable invites.
These unique first birthday party invitations print two to a page - just print and cut apart. Two great designs - one for boys and one for girls.
Simply scroll down to find the invitation you like and choose your paper type (A4 or letter). Click on the links to open the invitation in a new window, ready for printing.

Tip : Fill out all your invites BEFORE putting them into envelopes. It will be easier to check that you have invited everyone.

1st Birthday Invitation
Cute boy invitation. This 1st birthday invitation design features a boy blowing out a candle on a cupcake. 

Free to print:
Boy Checkerboard

Letter -
1st Birthday Invites.

A4 -
1st Birthday Party Invite

---
This pink and yellow girl version features a striking checkerboard border.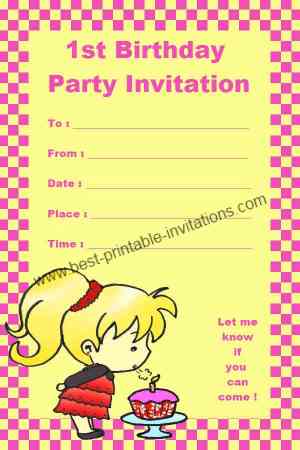 Print your own:
Kids Birthday Invitation

Letter -
Printable First Birthday Invitation.

A4 -
First Birthday Party Invites

---
A 1st birthday can be really special. In many cultures it is seen as a milestone and the first birthday is used as a celebration given to wish a long life and good fortune to the baby.
Make sure you give yourself plenty of time to plan the event - you probably have your hands full already taking care of the baby! I know some people start planning when the baby is 6 months, but do give yourself at least 3 months to get organized.
Your 1st birthday invitations should go out about 3 weeks before the event. This will give everyone enough notice to make arrangements.
Children can still get very overwhelmed at this age, so try not to let things get out of proportion. A big 1st party can be tiring, especially if it goes on too long. Keep things short and sweet - a small family gathering is ideal. If you decide to hold a large celebration make sure to arrange for a quiet room for the baby to take a nap or just get settled again.
Decorations always make a party special, but do take care to choose ones that will be safe. Watch for choking hazards. This is about the only party where balloons should NOT be welcome - the sound of popping can send a room full of one year olds into hysterics!
Food can be difficult to juggle and I think you need to resign yourself to a double menu. Nutritious finger foods and a healthy birthday cake for the babies. Plus some good old fashioned party fare for the grown ups. It is fine to have two cakes for this party if you can manage it - your grown up guests will appreciate it.
Don't forget to think about outfits whilst you are planning. Your baby will need something special to wear for their 1st party (and so will you!). By all means dress your 1year old up for the occasion but don't forget about comfort. An uncomfortable baby makes for a grumpy baby! Not something you need at their party.
Remember your other small guests too. I made up a basket of spare diapers, wipes and other essentials and placed them in the spare bedroom. It made things easier for parents to change and settle their children.
As it is such a special day, make sure someone is assigned to take lots of photographs - you will probably be much too busy. It makes a lovely gift for your child to put the photographs, along with their birthday cards and gift tags, into a photo album or scrap book. You could even ask your guests to write well wishes and hopes for your baby onto small pieces of paper and include them too. It would make a very special memento of the day.
More Party Invitations
FromtheRookery

›
First Birthday Invitations
›
1st Birthday Invitation
Like this? I would love it if you would share!