Free Printable Halloween Invitations
Having a Halloween party? Why not try these free printable Halloween invitations? 

Halloween is a great time to throw a party. It is such a fun time for tricking and treating. There are so many different ways to hold parties for this spooky holiday because they can be scary, humorous, cute - or a mixture of all three. 

With so many different types of All-Hallows parties to choose from, each needs a special invitation to set the tone of the event. It will help your guests know what to expect - and reassure little ones that it won't be too scary. 

The different types of invites in the section below, will help you find the best way to invite your guests to your party. 

Best Free Printable Halloween Invitations

Choose your favorite :
These bright, fun invites are foldable to make a card. There is space inside the card to write your party details. 

See Foldable Printable Halloween Party Invitations.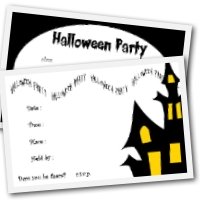 Got a lot of invitations to print and short of ink? These smaller invites print 4 to a page to save you time and ink. 

See printable halloween invitations. 

My most scary design yet! This skull design is not for the fainthearted. Will your guests dare to be there? 

Unique Halloween Skull Invitation. 

A costume party? Or a simple bat design. You will find them both here. 

Free Halloween Invitations.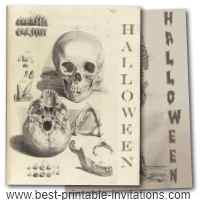 Something a little more grown up for adult parties. Choose from skulls or a skeleton design. Both invites fold to make a card. 

Adult Halloween Party Invitations. 

Simple black and white skeleton designs. Nice and spooky! 

Spooky Halloween Invitations. 

I hope these invites help you to have a spooky party :) 
Do you need some decorations?
Check out my printable posters to bring some scary color into your theme.
FromtheRookery
›
Halloween Invitations
Spread the word!
If you liked what you saw here, why not pin the picture below, or leave me a comment.
Like this? I would love it if you would share!